Social Activities in Shri Samsthanam
There is a saying in Samskrita Language – Janani janma bhoomischa swargadapi gareeyasi. That means, for a person his motherland is greater than heaven. His Holiness Shri Shri Gurudevananda Swamiji of Odiyooru is the living example for this. He has not only enjoyed the bliss of spiritualism but stimulated self-awareness in the minds of the people who came in contact with him. His Holiness, being a great teacher, has shown the divine path through his social, religious, educational, economic and cultural services to the people who imitate western culture and are lost in the darkness of ignorance.
His Holiness established Odiyooru Shri Gurudeva Public Charitable Trust through Shri Gurudevadatta Samsthanam in order to bring harmony in society by invoking the divine power present in everybody. He realized that only a self-reliant society can build a strong nation and hence, implemented Odiyooru Shri Gurudeva Grama Vikasa Yojana. This programme, with the help of four principles; culture, cooperation, organization, and prosperity, has been transformed into a strong foundation in building a culturally enriched society in all over Tulunadu (Dakshina Kannada, Udupi and Kasaragod district).
2001 – The birth of Odiyooru Shri Gurudeva Grama Vikasa Yojana
On the day of Gramotsava (the auspicious day on which His Holiness was born), this programme was inaugurated by the divine hand of Shri Guru Samartha Vivekananda Muni.
Under the leadership of the late Satya Ganapati Pambattaje, the programmes like Samskriti – Samskara, personality development education, village clean-up programme and recognizing the guru-bandhus in the villages of Karopadi, Kanyana and Avali. In addition, cultural programmes like spiritualism, pranayama, yoga, bhajan and satsanga programmes were also held.
2006 – Launching 'Sanatana Samskara Sankalpa Abhiyana'
This campaign in itself was a revolution, very much needed to build a culturally enhanced society. This campaign, through Samskarotsava programme, reached 84 villages in Bantwal Taluk with the mission 'Susamskrita Bantwal, Samruddha Bantwal'. During this campaign, more than 1, 00, 000 copies of Holy Bhagavadgita were distributed. Some of the main aims of this campaign were –
Eradicating the mentality in the society which has divided people based on caste, religion, sect, community, status and power, and invoking the divine power which is present in everyone
Building religious, social and familial commitment in society as well as upliftment of our Sanatana Culture
Creating awareness regarding domestic food habits, clothing and hygiene in villages
Creating awareness regarding life and education through meditation, pranayama, yoga, bhajan and satsanga
Building a harmonious and addiction-free society through His Holiness, visiting the houses of downtrodden people, bhajan mandirs, temples, local deities.
2011 – Adoption of 10 villages on the occasion of 10th anniversary
The villages – Karopadi, Kanyana, Manila, Peruvayi, Kolnadu, Saletturu, Ira, Manchi, Alike, Netla Mudnooru and Anantadi – were adopted and Vikasavahini Swa-sahaya Sangha were launched. Many socialite programmes were launched for the upliftment of the downtrodden community in society such as sewing training centre, nursery for children, cottage industry centre enabling them to be self-reliant, and then moral education, women development programme, health check-up camp, blood donation camp, agricultural information camp, financial aid for pursuing education, providing food, clothes and shelter for poor people, helping the people affected by natural disasters, cooperation for public necessities, public toilets, aid in house construction, construction and transfer of houses under Navaniketana Programme, and providing education to poor eligible students. During this time, in Mangaluru City, a campaign was launched to invoke spiritualism among the urbanites. A special issue 'Gramabhyudaya', containing entire information on the scheme, was published as a souvenir to celebrate the 10th anniversary.
2014 – Vijaya Rajata Sambhrama
On 5-1-2014, at Kendra Maidan in Mangaluru, Tulunaddha Jatre function was held to commemorate the silver jubilee of Shri Samsthanam under Odiyooru Shri Gurudeva Grama Vikasa Yojana. A campaign, 'Bale Ter Oipuga' united the Tuluva people all over Tulunadu Region from the edge of the Western Ghats in the east to the seashore in the west, from the Chandragiri in south to the Barkuru in the north. The festivity was a huge success in invoking Tulu Language and culture and etched on the pages of history.
2016 – The anniversary of Gramotsava scheme
At present, several organizations and committees are working ably in Dakshina Kannada, Udupi and Kasaragod Districts under the guidance of His Eminence and Sadhvi Shri Matanandamayi. So far, 2394 Vikasavahini Swa-sahaya Sangha have been formed, having 18733 members (13870 women and 4863 men) and 83 block committees. Council committees have been working with dedication and selflessness. 10 village committees are involved in the activities aiming at overall progress. The savings amount is 5, 83, 59, 296.50 Rs in the current financial year, and till date, 9, 94, 26, 551.00 Rs loan has been taken for various development works of the members from Odiyooru Shri Multi-purpose Cooperative Organization while receiving the loan payment on time.
So far, overall 15 free sewing training camps have been conducted and 671 people have gone under the training. Till date, 66 free sewing machines have been distributed to the beneficiaries. The sewing training camps are run periodically in sevagrams.
Under Odiyooru Shri Gurudeva Grama Vikasa Yojana, village clean-up programme and environment protection programmes are conducted in order to create awareness regarding hygiene, environment as well as nurturing patriotism for continuous 15 years. This year, throughout the district, 52 clean-up programmes were held and 2239 people participated in the campaign.
The programme has conducted total 77 treatment camps with the aid of K. S. Hegde Hospital, A. J. Hospital, K. M. C. Hospital and Wenlock Hospital, Mangaluru. 17, 776 people were treated in these camps. In addition, 4 blood donation camps were organized and 270 people donated their blood. Programmes providing information regarding health were also organized. The victims of Endosulphan Tragedy were counselled.
As per yearly report, approximately 22, 00, 000 Rs was spent and in last 5 years, approximately 2.50 crore of money was spent on various public welfare services. Under this programme, various sports and cultural events, award presentation, organizing marsh wetland sports event are done. In sevagrams, teachers are provided to the required schools; information camps are held; health check-up camps, religious programmes, self-employment training camps, meditation, bhajan training, child development convention, and tours are being organized.
In sevagrams, considering the financial condition of the residents, the programme has aided in building 1667 toilets in order to maintain the hygienic condition. With the aid of grama panchayat and Lion's Club, several toilets have been built. Under the Navaniketana programme, houses have been built and transferred to the 15 families living below the poverty line.
As per His Holiness' will, Odiyooru Shri Gurudeva Grama Vikasa Yojana is reaching the last person of the society and successfully connecting him through samskara; as a result, such people are willingly participating in various service programmes.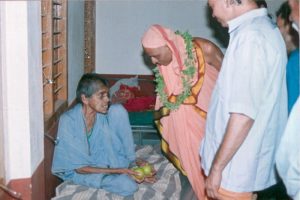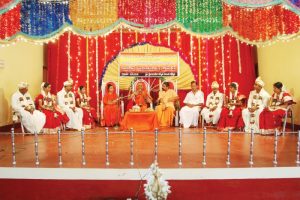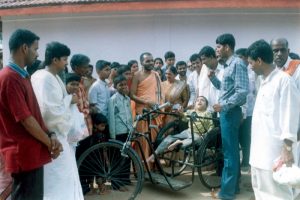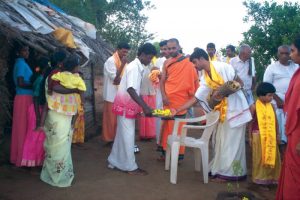 Seva Balaga & Mahila Vikasana Kendra
Odiyooru Shri Gurudevadatta Samsthanam, founded by the His Holiness Shri Shri Gurudevananda Swamiji, is growing socially, academically and culturally as well as spiritually. Odiyooru Shri Gurudeva Seva Balaga and Odiyooru Shri Vajramatha Mahila Vikasa Kendra were started with the purpose of carrying out the socialite services of The Seer in other places as well as conducting spiritual programs such as bhajans, satsanga etc. Today these organizations are running their service programmes in and out of nation under the valuable guidance of The Seer.
Odiyooru Shri Gurudeva Seva Balaga has its branches in Odiyooru, Sullia, Kukkujadka, Puttur, Eshwaramangala, Mangaluru, Vitla, Nasik, Anantadi, Netla Mudnooru, Mumbai, Pune, Bolyaru, Ankattadka, Kadaba, Heruru, Bengaluru, Davanagere, Baroda, Hoovinahadagali-Bellary, Ahmednagar, Sangli, Ahmedabad, Uppinangadi, Arala, and Thiruvananthapuram.
| | | | |
| --- | --- | --- | --- |
| SL. No. | Name of President | Branch | Phone No. |
| 1 | Ashok Kumar A. | Odiyooru | 09448127708 |
| 2 | Radhakrishna Pakala | Sullia | 09449954225 |
| 3 | | Kukkujadka | |
| 4 | Monappa Poojary Kavu | Puttur | 09972260907 |
| 5 | Kumaranath Rai Karnuru | Eshwaramangala | 09741669559 |
| 6 | | Mangaluru | |
| 7 | | Vitla | |
| 8 | | Nasik | |
| 9 | | Anantadi | |
| 10 | | Netla Mudnooru | |
| 11 | Prakash L.Shetty | Mumbai | 09821613229 |
| 12 | Sadananda K.Shetty | Pune | 09823055076 |
| 13 | | Bolyaru | |
| 14 | | Ankattadka | |
| 15 | | Kadaba | |
| 16 | | Heruru | |
| 17 | | Bengaluru | |
| 18 | Siddaramappa | Davanagere | 09964229428 |
| 19 | | Baroda | |
| 20 | Neelakantappa | Hoovinahadagali-Bellary | 08861231488 |
| 21 | | Ahmednagar | |
| 22 | | Sangli | |
| 23 | | Ahmedabad | |
| 24 | | Uppinangadi | |
| 25 | | Arala | |
| 26 | | Thiruvananthapuram | |
Odiyooru Shri Vajramatha Mahila Vikasa Kendra has its branches in Odiyooru, Pune, Mumbai, Puttur, and Davanagere.
| | | | |
| --- | --- | --- | --- |
| SL. No. | Name of the President | Branch | Phone Number |
| 1 | Sarvani P.Shetty | Odiyooru | 09480266280 |
| 2 | Prema S. Shetty | Pune | 09850636469 |
| 3 | Revathi V. Shetty | Mumbai | |
| 4 | Nayana Rai | Puttur | 08970519817 |
| 5 | | Davanagere | |
Animal Husbandary & Dairying
The Holy Seer has built a spacious cow shed in Shri Samsthanam out of his affection for cows. In a sincere effort to protect cows and for dairy, the cows are being looked after dedicatedly in Shri Samsthanam. At present, more than 200 cows are sheltered in this samsthanam.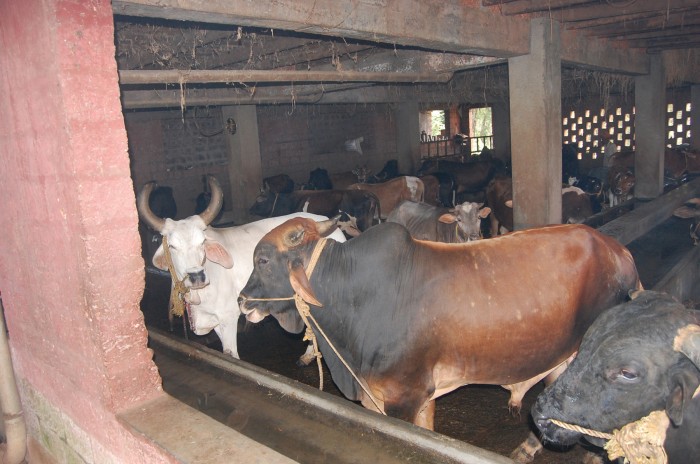 Co – operative Organisation Ltd.
In 2011, on the occasion of the 50th birth anniversary of the revered Odiyooru Shri, through Odiyooru Shri Gurudeva Grama Vikasa Yojana, a self-help organization was formed in order to handle the financial issues of sister organizations of Shri Samsthanam on 20-04-2011. That organization was named as Odiyooru Shri Vivedodesha Shwharda Shahakari Niyamita. His Holiness and Sadhvi Shri Mathanandamayi being the honorary directors, with the help of 13 directors, customers and the people from every section, the head office and the first branch were opened in Odiyooru. Within a year, it opened 6 more branches in Bejai and Pumpwell in Mangaluru, B. C. Road, Puttur, and Vitla.
With 1523 members, it collected 10.81 crore deposit and gave 6.04 crore loan. In its first financial year, its debt recovery rate was 100% and earned a profit of 5.97 lac.
This organization has its regional office in Pumpwell, Mangaluru. All branches are computerized and excellent services are provided by the well-trained staff. In later years, it opened 9 more branches in places like Kanyana, Surathkal, and Thokkottu. By the end of the financial year of 2015-16, it had 4623 members along with 83.60 lac capital. It had collected 95.70 crore deposit and given 60.52 crore loan; at the year end, it earned a profit of 81.04 lac and paid 15% dividend to its members.
It has become the number 1 cooperative organization among the registered cooperative organizations in Karnataka State. This feat has been achieved because of the management board, continuous efforts of the staff, the support provided by the customers and the members. So far, this organization has formed more than 2000 Vikasavahini Swa-sahaya Sangha under the Grama Vikasa Yojana and has been providing financial support.
| | | |
| --- | --- | --- |
| SL. No. | Branch | Address |
| 1 | Sullia | |
| 2 | Kadaba | |
| 3 | Belthangady | |
| 4 | Uppinangadi | |
| 5 | Moodubidri | |
| 6 | Mulki | |
| 7 | Kavooru | |
In this cooperative organization, attractive interest rates are offered on the deposits. For senior citizens, widows, ex-servicemen and organizations, 0.5% interest is given on fixed deposits. Savings account, Akshaya Nitya Nidhi Yojana (pigmy account), recurring deposit and others are some of the deposit facility offered here.
Loan is given to self-help associations; vehicle loan, home loan, loan on deposit, loan on bail, mortgage loan, loan on gold and jewellery, and other types of loan are given to the members.
Shri Gurudeva Kalyana Mantapa
Shri Samsthanam has been working for the welfare of the society along with the worshipping of god. Shri Gurudeva Kalyana Mantapa was built in Kanyana in order to enable common people to hold auspicious, religious and cultural programs within budget. This hall has every facility and a provision which allows thousand people to have meals at a time. Shri Nityananda Temple has been built next to this hall.